Our School Prayer written by our Mini Vinnies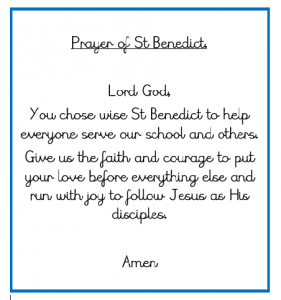 We believe that Prayer brings us closer to God and to one another. We pray for ourselves and the needs of others around the world. We pray daily in class and as a community.  Below are the prayers that are prayed with the children. Please take time at home to pray them together.
SIGN OF THE CROSS
In the Name of the Father,
and of the Son,
and of the Holy Spirit,
Amen.
MORNING OFFERING
Oh my God you love me.
You're with me night and day.
I want to love you always in all I do and say.
I'll try to please you, Father,
Bless me through this day.
Amen
GRACE BEFORE MEALS
Bless us Oh Lord as we sit together,
bless this food we eat today,
bless the hands that made the food,
bless us Oh Lord.
Amen.
GRACE AFTER MEALS
Thank you God for the food we have eaten,
Thank you, God, for all our friends.
Thank you, God, for everything.
Thank you, God. Amen.
END OF THE DAY PRAYER
God our Father, we come to say
Thank you for your love today.
Thank you for my family
And all the friends you give to me.
Guard me in the dark of night,
And in the morning send your light.
Amen
A PRAYER BY SAINT BENEDICT
Gracious and Holy Father, give us the wisdom to discover You, the intelligence to understand You, the diligence to seek after You, the patience to wait for You, eyes to behold You,a heart to meditate upon You,and a life to proclaim You,through the power of the Spirit of Jesus, our Lord. Amen.