CREATIVITY IN RELIGIOUS EDUCATION
Religious Education is a core subject and we like to get creative when teaching it. Our teachers like to explore delivering the RE programme through music, art, dance and drama. Teachers encourage to be creative when presenting their work and annotating scripture.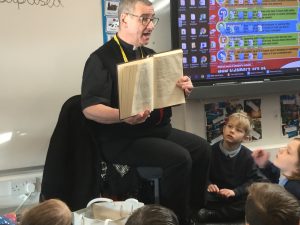 For RE we follow the 'Come and See' and 'Be Still and Know' (Pilot scheme) Catholic Primary Religious Education Programmes.
Come and See  is an extensive programme which covers a range of challenging themes from EYFS up to Year 6. Each theme is divided up into the following sections:
At the end of each theme, the children reflect on what they have learnt through class liturgies.
The scheme covers the themes:
Domestic Church
Baptism/Confirmation
Advent/Christmas
Local Church
Eucharist
Lent/Easter
Pentecost
Reconciliation
Universal Church
Newsletters are sent home termly giving information about what the children are learning in school.
Big Questions are used to encourage children to make the curriculum more compelling.