"I am with you always close by, ready to help. Yes, forever until the end of time…"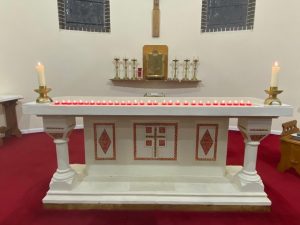 Humans gather in groups. In our Catholic faith, we believe that we are One Body with Christ. As a catholic community we also believe that family and community is vital in building God's Kingdom so our children prepare for the sacraments alongside parents and with the parish community. This is called family catechists. Family catechists, or preparation, is not just for children but parents too. In family catechists, adults as well as children, work, learn and pray together. They share their faith with each other and with other families.
All year 4 children receive an invitation to join the First Holy Communion Programme.  If you have children in year 5 or year 6 and wish them to receive the Sacrament, please contact the school office in September.
This year the children who were making their First Holy Communion are able to make a time at Mass with Fr Derek to receive the sacrament.
Please contact Mrs Dickinson in school who will help you to do this.