Meet our chaplainc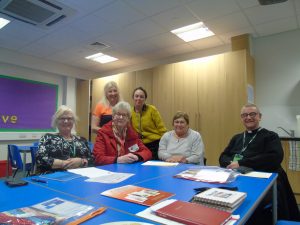 y team, led by  Mrs Dickinson, Mrs Young and Mrs Gardner.
The chaplaincy has a pastoral role within school supporting both staff and children.   It is made up of members of teaching staff, non-teaching staff, governors, members of the parish and the parish priest of The Blessed Nicholas Postgate.The chaplaincy team is supported by a group of Mini Vinnies from throughout KS2.
Chaplaincy Aims
Supporting the school in its delivery of spirituality, worship and prayer with a particular emphasis on Christianity.
Closer links developed between School, Home, Parish and Communities both local and national by the service of staff and pupils within St Benedict's.
Faith in Action PIN level certificates awarded for 20 hours service to the community.
Mini Vinnies established and playing a key role in the Catholic Life of the School.
Children recognise how they are 'Called to Serve' in a variety of ways throughout the year.
Working in other areas of the school community as need and opportunity arises and as skills and expertise allow.
Offering opportunities to explore personal and Christian belief and values.
Called to Serve
The chaplaincy team co-ordinates the schools "Called to Serve" initiative – please see the page 'Called to Serve' for more information.
Our Prayer Garden/Prayer Space
We have a dedicated Prayer Garden and Prayer Space that are used by the whole school for collective worship and quiet reflection.