Online Safety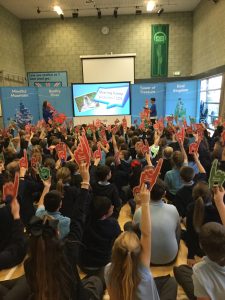 Children and young people today are using the immense power of digital media to explore, connect, create, and learn in ways never before imagined. With this power, young people have extraordinary opportunities, and yet they face many potential pitfalls (SWGfL)
At St Benedict's, we have started to adopt the use of the "Education for a Connected World" framework into the teaching of Digital Citizenship and PSHE. We welcome the framework's clear progression of skills, knowledge and understanding.  Addressing the New Curriculum, this framework is designed to empower pupils and students to think critically, behave safely, and participate responsibly in our digital world. These 21st-century skills are essential for children and young people to harness the full potential of technology for learning. The vibrant "Project Evolve" toolkit used to deliver the framework, is up to date; relevant and engaging and moves online life education into the third decade of the 21st century. The aim of "Project Evolve" is that children and young people are being taught something more appropriate; more meaningful; that encourages reflection; that generates positive outcomes. It focuses on eight aspects of online education;
PSHE based aspects
Self-Image and Identity
Online Relationships
Online Reputation
Health, Well Being and Lifestyle
IT based aspects
Managing information online
Privacy and Security
Copywrite and Ownership
How is our Curriculum delivered?
Online safety in school is taught under the umbrella of PSHE and is closely linked to specific events in the academic year to raise the profile of specific issues, such as online bullying within anti-bullying week. This approach allows pupils to see the connections of what they are being taught in the real world. Where appropriate, meaningful links will be made between the Online Safety curriculum and the wider curriculum. We have engaged with Google/ Parent Zone to deliver both live and online "Be Internet Legends" assemblies both during term time and during lockdown. These sessions promote safe, confident online behaviours. We also use CEOP age-specific resources as home learning tasks.
Parents and Carers
Online safety messages are delivered to parents weekly via our social media channels and school newsletter. These often take the form of guides that focus on a particular platform and app and offer a wealth of information and guidance. In addition, parents and carers receive the latest copy of Vodaphone's "Digital Parenting" magazine as it is published. We regularly send links to parents from ParentZone to join remote parent drop-in sessions about the online world – on everything from Cyberbullying to Sharing Carefully. These sessions take a 360' look at specific topics and offer practical strategies if parents have a concern, activities for families who just want to learn more, signposting to other resources and games and learning points from Be Internet Legends.